Welcome to Baal Hamon
-
the place of a multitude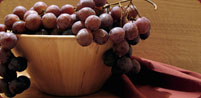 "Solomon has a vineyard in a place called Baal Hamon. There are farmers who rent it from him; each one pays a thousand silver coins." (Ecclesiates 8: 11)
Many people actually cringe when we tell them our name is "Baal Hamon". But no, "Baal Hamon" has nothing to do with the worship of Baal. The Bible verse above is the key to our name. The literal meaning of the word "Baal" is "ruler", "master" or "lord". Baal Hamon means "ruler of a multitude" or "place of a multitude".
This is our place - the place of a multitude - and here we are in charge of a flourishing vineyard. The vineyard is Christ's, and we are only vinedressers.
What does Baal Hamon do?
The
Baal Hamon group is a growing vine of many branches. Our established interests include publishing of Christian and academic books under the imprint Baal Hamon Publishers - www.baalhamonpublishers.com
Our webhosting and domain names services brand is Vineyard Hosting - www.vineyardhosting.net
We are stemming the vine into other business branches which you would see added to this site from time to time.
For a look at our books and publishing services , please visit www.baalhamonpublishers.com
For our webhosting and domain name services, please visit www.vineyardhosting.net
To join our mailing list and be kept up to date on our products, services and offers, please send a blank email to news@baalhamon.com with the word "subscribe" in the subject line.
Thank you for stopping by.